Focus
Celebrations of the 100th Anniversary of the Polish Social Policy
September 2018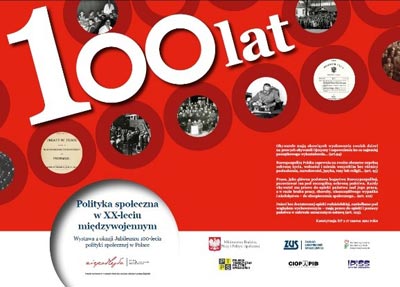 This year Poland celebrates the 100th anniversary of regaining independence. At the same time, in 2018 it celebrates the 100th anniversary of the Polish social policy. The jubilee emphasizes the importance of social politics which has been implemented in Poland since the independence was regained in 1918.
Over the past 100 years Poland has faced many challenges, first of all creating country structure and building basic institutions after restoration of independence. During the interwar period (1918-1939) the main tasks were poverty reduction, fight against malnutrition, begging and mass unemployment, as well as ethnic and class conflicts. It was time when Polish social policy was shaped. Occupational safety and health legislation established in the interwar period was recognized as one of the most modern in Europe.
After the end of the Second World War the nature of the work changed, new industries appeared. The policy of shaping working conditions was transformed from physical effort to psychological research into the causes of accidents, work analysis for hazards and accident prevention. To this end, the Central Institute for Labor Protection (CIOP) was established in 1950.
Since its accession to the European Union Poland has been active in drawing up new regulations not just related to physical and chemical occupational hazard, but also social and psychological ones. Research has resulted in social and technical innovations, which – once implemented – help improve OSH and thus decrease social and economic losses.
Ministry of Family, Labour and Social Policy together with social partners has planned a number of special events dedicated to celebrate the 100th anniversary of Polish social policy, such as a series of 15 conferences on the theme "Past-Present-Future", a mobile exhibition entitled: "Social Policy in the interwar period" and a commemorative, collective publication entitled "The Centenary of Polish Social Policy 1918-2018", which shows the evolution of social policy in Poland over the last 100 years.